Day 5 - Part 1
We woke up at 8.15am and Noor already left for her office. We had yesterday's dinner for breakfast, and continued to check email from Noor's computer. I managed to settle some office affairs quickly with the email (I know, I am not supposed to work during vacation, but what the heck).
We took off to Den Haag Central Station at 9.30 and got all train tickets to Amsterdam and Schiphol (which was really expensive). We departed to Amsterdam at 10.30 and I called Gimill from the train.
This is the return train ticket from Den Haag to Amsterdam.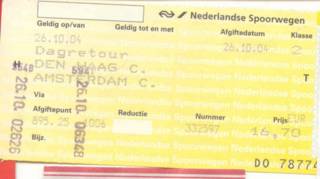 I'm seeing double Indi here!
Arriving in Amsterdam Indi wanted to directly go to Nemo. Along Oosterdokade we saw these little boat houses which we'd love to stay in, should we reside in Amsterdam.
We also found this Botel, a boat hotel (EUR80 per night) which is really cute. But the Boat Hotel does not really sail (anymore).
At this area, we also find a Chinese restaurant with its complicated Chinese decoration and colour, which look terribly out of place in the area! We passed by an art museum, probably built in 1950s (recommended for visit by Gimill). To get to Nemo we also need to cross a nice bridge.
It turned out that we needed to pay EUR12 to enter Nemo. Since we had no time, we decided to just circle around the building and took photos of the old boats.
We walked back to the Station and took tram no. 1 to Overtoom. S333's office is at the fourth floor together with other architects in the same building. It was an old building with a car-sized elevator at the back side. Gimill introduced me to Viktorija and Jonathan.
Gimill took us to the rooftop of their office where we could observe Amsterdam's skyline. He explained the planning history of Amsterdam and also metropolitan connection of four cities in the Netherlands (Amsterdam, Den Haag, Utrecht, and Rotterdam).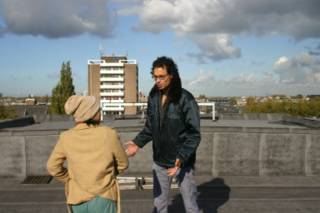 S333 staff is having lunch in the central table in their office, they prepare their own lunch. Chris, Gimill and us were going to have breakfast at Vondelpark, but it was packed with people. So we decided to have lunch at the Film Museum instead. We had tomato soup, sandwich, and hot chocolate with whipped cream. The place is quite affordable, considering we were served by a waiter, the portion is huge, and we had a nice place to sit. It was just a little bit noisy with small kids running around. Chris said that if we were to have a vacation with small children, it is best to go to Portugal or Spain, where people will be very friendly towards the children. Gimill also told us a story that he has actually known Chris when he was still a little boy in Groningen. Chris almost stayed with Gimill's parents at that time.
When we were back to S333 office we met Burton.
They gave us books on their project and share stories about their redevelopment projects in Bergen, Norway.