Day 8 - Part 2
After various ride, together we got family ticket to ride
the antique Ferris Wheel at Praterstern
.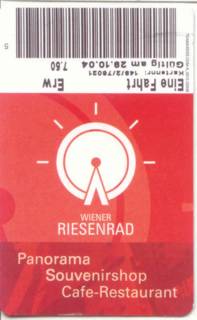 This wheel was built in 1897. In the ground floor lobby there is a diorama museum of the Vienna Prater District history, even from Roman times, middle ages, to the present condition.
This is our carriage.
You can see Viennese landscape from the top of the Ferris Wheel.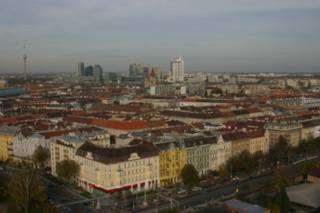 The carriage next to ours was the lavish restaurant. It is really exclusive and being rented out for really expensive price. We also saw a carriage which was for business meetings.
This is how high we were from the ground.
This is the whole group (minus Indi) while on the peak of the wheel.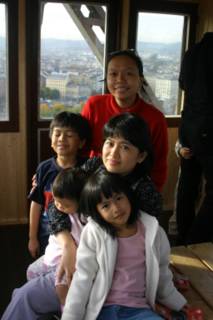 Kaka and Rania took this picture using our Canon 300D. They're really becoming experts in photography.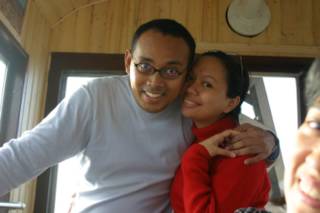 After the ride, we were given discount card to shop in the souvenir shop but we didn't use it because everything was expensive.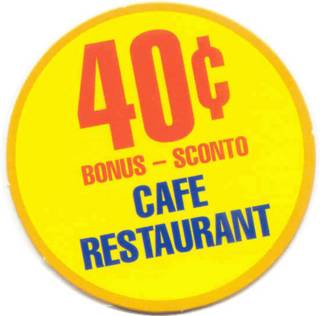 Again, this is the Ferris Wheel, photo taken from the ground.
Mbak Icha and the kids went home while we were heading to Kartnerstrasse to change travellers cheque. On our way, we saw people gambling by guessing where a stone is located among three boxes. It seemed that the dealer made a lot of money. Some people even gamble for EUR50. Indi's guess was always correct, but he did not want to gamble his money.
Right outside Amex office, we saw two girls playing Mozart in flute duet at Kartnerstrasse, and they were quite good.
We continued to take UBahn toward Schonbrunn station
to go to
Schonbrunn palace
.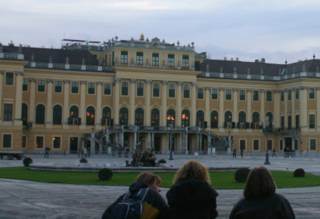 Too bad it was already closed. We only get as far as the main hall, where we found hexagonal wooden tiles.
We walked to
the Marionette museum and Theater in Schonbrunn
. Although we missed the show, we managed to see the Marionette museum to see the various collections and how the marionette was made.
We took the UBahn back to Kagran, where we did a little shopping at Donauzentrum Spar to stock up for our road trip the next day tomorrow. We bought bread, cheese, marmalade, butter, salad, and some fruits.