Day 2 - Part 1
We woke up 9.15. It seemed that the weather's going to be sunny and nice! This is the view from our room in Thomas & Elok's house.
We were driven to Mjosund's house for breakfast. There we met Elok's parents, brother, and grand mother. We had bread with kaviar, pate, cheese, pickled cucumber, and home made wild berry jam. The temp was 3C cold but the butter managed to stay soft because it's mixed with olive oil. This is Elok's photo when she's having breakfast as her hair was prepared for bridal hairdo.
This is Odd Mjosund with Rani. The temperature was 4C outside.
During breakfast, we learned:
Norwegian people don't have lunch

Instead they only have a big breakfast late morning

For them, lunchtime was just snack

Then they have big dinner is at 5-6pm

Later, tea/coffee, soup, and/or cake are served at 9-10pm

You can leave leftover food outside the house, because it was damn cold (except in summer)

Norwegian people like to have long chat with friends and family

But they don't like chatting during big dinner & breakfast. Only after that.

Norwegian people are very friendly and eager to help friends. In such cold weather and sparse population, good ties with friends and family becomes very important
We went to town centre of Stjordal after breakfast. It's a small town indeed, with only 18,000 population.
We took time in grocery trying to understand the ingredients in products, written in Norwegian language. Asking people are not really effective since they do not really speak English. We saw that orange is translated as appelsin, whereas apple is eple. Finally we bought 3kg of smoked salmon for a dirt cheap price compared to buying it in Singapore. We also bought lamb sausage and reindeer sausage. We found that aside of salmon and sausages, other products are typically 2-3 times more expensive than Singapore. The shop didn't accept credit card, we ended up paying with cash. We had to put our grocery ourselves into the plastic bag, unlike in Singapore.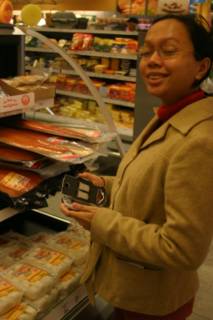 We went back to Mjosund house to see Elok's getting bridal makeover by her mom. In front of the house the Mjosund put on Finnish flag, because Thomas's mom is Finnish.
This is the bride in preparation, and her mother.
This is the bride's grandmother. Oma came as far as Norway to give the dearest granddaughter her blessings to the marriage.
I met Merete, the maid of honour, who lives together with Tor Otto (the best man) with their son Isaac (who will join the wedding procession). Merete will be wearing a dress made in Indonesia. This is Merete with Oma.
Again, Elok was doing some final touch-up.
This is the Bridal Bouquet.