Day 6
We woke up at 5am and had breakfast of Danish pastry and decaf coffee. Then we took the first Tram 6 to Mariahoeve station. We said goodbye to Noor at the train station. When we arrived in Leiden, the train to Schiphol is just at the other side of the same platform, and so transferring trains was a zippy. We also saw flight attendants in the public train, unlike in Indonesia where flight attendants are picked up by company car.
We arrived on time to check in. When we were about to enter the boarding area, our laptop bag caught attention, as usual. However, the security guards checked the bag that contains clothes instead. Both bags really looked alike, and we placed them into the Xray machine at the same time, and that's the problem. The security guards did not manage to find anything in the clothes bag, of course.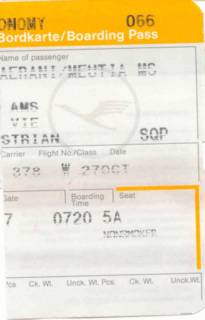 The walk to the gate was a bit far, and then we boarded the flight.
We were given croissant and vollkorn bread (which Indi did not like) for breakfast. Indi spent the whole flight editing pictures in the laptop.
When we arrived in Vienna, we immediately went to S7 train platform (through a big cargo lift). We were almost left by the train, and the next train is not until half an hour later.
Arriving in Floridsdorf we immediately bought the cheapest transport card, which is the 8-day card to be utilised for four days by three people. This is more advantageous compared to the 72 hours card, because 8-day card need not be utilised in consecutive days and can be used by other people as well. Taking the Tram 26, it was pretty easy to go to Mas Reza's house.
After calling Mbak Icha, Kaka went down to picked us up. How he has grown! His skin has become a bit darker, just like his father.
Rania has also grown taller and looked like her mother, although the skin was dark like her father.
Rania gave us her drawing as a present.
Then we met Freiza, who is still a little baby.
Mom and the two daughters.
Their apartment was really nice, a double storey maisonette unit with a big balcony that can be used for barbecue in summer. The kids were also planning to put a bucket outside on the balcony during winter to collect snow and to eat it with syrup.
When we woke up at 4.30pm, we took a stroll to Donauzentrum in Kagran, together with Kaka and Rania. We bought candy for the kids, and bread for Mbak Icha. Kaka is really smart in reading maps, and he showed us where the Cinema is. Both Kaka and Rania really like getting on to rides such as horses or airplanes.
When we got back home, dinner was ready: Sushi and Fried Chicken. There was also
Sambal Gandaria, made in the Netherlands
. I wondered why we could never find nicely preserved Indonesian sambal both in Singapore and in Indonesia. Before we slept we washed our clothes and hang them inside our rooms