Day 13 - Part 2
We woke up just before six. At the foot of Nonnberg we could hear the Glockenspiel in Mozartplatz rang at 6pm. Walking towards Kapitelplatz, we could see the Fortress high up on the hill was being lit to make it visible at night. We were surprised to find out that the fortress light was projected from the Altstadt area. Passing by Domplatz, we continued to Residenzplatz, which used to be the place for Archbishop. The building was so lavish, and we could also see the picture of the Gallery room with its intricate ornaments. So much of religious leaders of that days living in overwhelming wealth while the people around the area were poor!
We continued to walk to Mozartplatz where there is a Mozart statue wearing Toga. The depiction of Mozart in this statue is so distant from what I saw in the movie Amadeus.
We then continued to walk along Getreidegasse, which is a cobblestone paved pedestrian road with a lot of shops (which has mostly closed except of some restaurants or cafes). It was really fascinating to walk in this old town of Salzburg. The street is never really straight, and a lot of small alleyways cut through rows of buildings, offering surprising glances of alleys and inner courtyards. It is like walking in a labyrinth, but never getting lost in the maze. We noticed that most of the buildings were built in 13th century, or at least originated from that era.
We even found a doorbell from olden days, with a very simple mechanism. A handle is attached to a long cable that is tied to a bell at upper level. Each handle corresponds with the level number to contact. If I want to ring Mr. Braun in 2nd level of a building, I just pull the handle marked "2nd Storey" and ring the bell.
Then we took our photos outside Mozart's birthplace. Too bad the Museum is closed at that late hour.
We passed by the Kebab Place in one alleyway on Getreidegasse. I was in this Kebab place too, in 1999, but now we had a chance to talk with the seller. His name is Mr. Darius, who came from Iran. First he came to Singapore around early 80s, and settled down in Salzburg in year 1982. He has a son named Dario (sounds Italian). His Kebab is really good.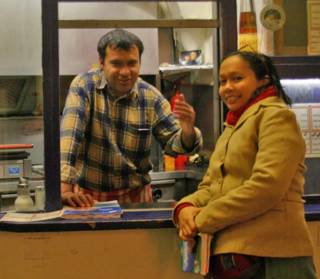 We also saw a shop that sells all kinds of liqueurs. On the display, there is one bottle with Cigar inside it.
We continued to walk through Burgerspitalgasse then back onto Universitatplatz. We saw a shop that sells exclusively handmade Mozartkugeln, which is quite price (about EUR 0.80 a piece).
Then we head back to the Residenzplatz, and made a detour towards the Festunggasse, where we passed the entry to the Fortress funicular. We cut through Herrengasse and going back down in Kalgasse, where there is a café selling Gluhwein (warm red wine). Arriving back in the hotel, we took a shower and slept.