Day 3 - Part 1
The next day we woke up 10.30, and had Swedish bread with salami while watching cross country skiing on TV. Ivan went out jogging while Catherine flew back to Bergen. At 10am, we, Elok, Thomas, and Ivan drove around the area. The weather today was cloudy, raining, and cold. We dropped by petrol station to buy Bumse Mamse, a marshmallow / jelly covered with chocolate, which is Elok's favourite.
We drove to Hell. It is actually a town near Trondheim called Hell. Elok and I took photos in Hell Train Station.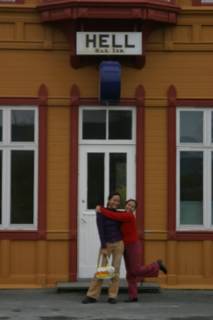 There's a warehouse nearby where it is written 'Hell Gods Expedition' which actually means 'Hell Town Goods Freight Delivery'.
The newlyweds spent their honeymoon in Hell!
Now we can tell everybody that we have been to Hell, and it was not that bad. Here's an advertisement billboard on Hell's tourism. The billboard seemed like offering an enjoyable 'torture service' in Hell.
We then drove to Trondheim taking the old road along the Fjord. In Trondheim, we took photo at the University: Ivan, Thomas, Elok, and Rani.
This is Indi and I on top of the hill in Trondheim University overlooking the city.
We saw a cute and old elevator to take bicycle up to the hill. Then we went to Kristiansen Fort. Here we saw two women kissing each other very passionately. From this for here we could see the view to all Trondheim City. It is funny to see that the canons were actually aimed at the church and the houses, we wondered why...…
We continued to Nidaros Cathedral. I saw a cute dog tied outside the cathedral and played with him.
We saw an interesting sculpture outside the church: a bishop carrying heads of three people. I wonder what is it all about?
Inside the church I threw coins into the well, hoping to come back to Norway later on. There is also a preparation for a concert inside the church. This is the interior of the church.