Day 1 - Part 3
After the boat ride, we walked back to the Dam and took the bus from near the Central Station to go back to Tante Peggy's house. There was a lot of pigeons and horse carriage in the Dam. Tante Peggy helped an old lady whose bike is trapped. When we walked by, we saw so many billboards about Malaysia Tourism, and this ashamed us. Where is Indonesian Tourism advertisement?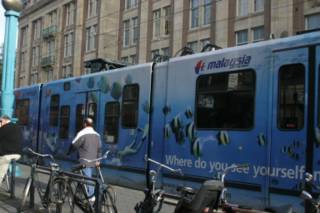 At Tante Peggy's house, about 45minutes bus drive from Amsterdam, we met Zicarlo and his girlfriend Jocelyn. Tante Peggy showed us the backyard of her house, which is nice to be used for dinner in summer. She explained that the name van Aalderen was originated a long time ago in Germany. She also told us the story when she debated German Chanchellor Kohl for making a statement denigrating Indonesian in a seminar. Here's a photo of Rani exhibiting her belly to Tante Peggy.
The van Aalderen family was really kind to drive me to the crowded Schiphol airport. In Schiphol, we had vegetarian pizza and sprite for dinner. We boarded KLM Cityhopper flight to Trondheim, Norway.
On board, we struggled to stay awake in flight. When we arrived, the weather was hellish cold. The walk from the airplane to airport terminal was like hell and I was shaking of cold.
Elok and Catherine picked us up at the airport. Catherine is Thomas's friend who came from Bergen. The town Stjordal, where Elok and Thomas live, is just 5 mins drive from the airport.
This is Stjordal, where we stay. As you see it's quite close to the airport (only 5 minutes drive), and a bit far from Trondheim (25 minutes drive).
We visited Thomas's parents house and met Odd and Ninni. Then at Elok and Thomas's house, we also met Ivan who came from Oslo. We tried Norwegian brown cheese (tasted a bit sweet) and beef salami with Swedish flat bread (like the ones found in IKEA Singapore) for supper. On the picture you can see Elok, Catherine, Ivan, and Thomas.
We were really tired and fell to bed instantly after a nice warm shower. This is the picture of Elok doing the dishes just before we all went to bed.