Day 8 - Part 1
When we woke up a bit late (because of last night's opera) Mas Reza has been ready to go to his office. Since we were not ready to go together with him, Mas Reza went to his office by himself.
After shower, doing laundry, and breakfast, we took U Bahn from Kagran to Hilton Am Stadtpark to get our rented car from
Budget
. We got a candy white VW Polo with two doors.
The road in Vienna was not really difficult, although we mistakenly made a detour at Jesuitenwiese. We managed to get home through Praterstern and Vienna International Centre. Luckily we could secure a parking space near Mas Reza's house for free.
Together with the kids and Mbak Icha, we took U Bahn to Praterstern. We were amazed on how courteous Austrian people are. They do not push their way into subway train, bus, or tram. They help mothers to take the stroller into the train. They give seat to pregnant women, and women with kids. The men allow women and old people to enter or exit the train before they do. And of course, we also experienced this kind of courtesy in the Netherlands as well. Why can't we experience similar courtesy in Singapore? What's the problem?
In Praterstern the kids were really happy! They rode Bumper Car.
Earlier today Kaka told me that he was really fascinated by car and wanted to have his own car. He told me that he has already set aside EUR10 every week in order to be able to buy car when he reach 18 years old. Yes, that is ten years of savings! He also did the same thing when he wanted to buy Playstation. Mas Reza and Mbak Icha never gave him money to buy
Playstation, so he save some money from his weekly allowance, and after months of saving, he managed to buy one.
You can see how he's fascinated by car. Kaka drove really fast!
Kaka and Rania also rode a pony in a circular field. It was just like a merry go round, but using a real-life pony. Here's Kaka with the galloping horse.
And this is Rania with her favorite pony.
We also played with falling leaves at the park.
We tried to cover Freiza with autumn leaves.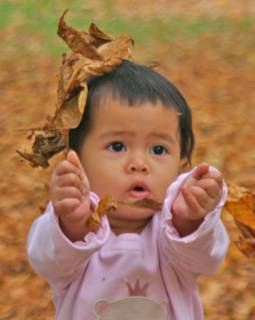 Then we had lunch at McDonalds, where Kaka was brave enough to speak German with the shop attendant. This is Rania with her Super Size Coke.
We then continued to watch people riding the twister.
On the ground, the twister ride operator doubled as a deejay who made broadcasted funny comments to attract people into his ride. We also noticed these two old man and woman who stood nearby were really amazed with the ride. The man was so amazed he could not close his jaw until the ride finished.