Day 5 - Part 2
We walked back to the Tram terminal to take Tram 1 towards the Central Station. We passed by a horse-stable which is still functioning as such. A horse-stable in the middle of the city!
When we took Tram 1 we dropped by Leidensplein to have Ben and Jerry's ice cream. I had caramel ice cream, while Indi was having another flavour.
We also took photo of ourselves at the bridge there.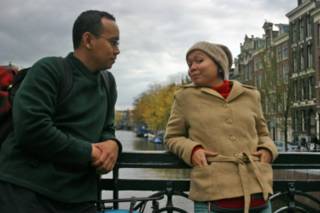 While we were taking photographs at the bridge there was a lunatic screaming around at nothing. Near the bridge we found a specialty shop that sells all kinds of marijuana and mushrooms, satisfaction guaranteed.
When we arrived in the Central Station Indi went out to take photos of the bicycle parking place. There's so much bicycles there! While waiting, I just watched the Morrocan taxi drivers parking around the station.
Indi was trying to record people's swift movements in the Amsterdam station. I love the nice blur effect caused by the slow opening of the camera. Too bad the security guard told Indi persistently that taking photos inside the station is not allowed. This is a really weird regulation.
Then we took the train back to Den Haag.
We got off at Den Haag Central and wanted to go to the City Hall (designed by Richard Meier). We wasted our time a bit by going towards the wrong direction (the palace of justice and royal library). Finally we managed to find the City Hall. An exhibition opening of Slovenian folk art was being held at the main atrium. There was also free food and wine! But we decided not to join the crowd and get the free meal. We saw traditional accordion among the exhibited item. We walked around the library and city hall, and thought that Meier's work is OK, but not so very fascinating.
When we walked further to find something to eat we saw the restaurant where we supposed to meet with Noor later on. It was Fat Kee Chinees Restaurant, located at Gedempte Gracht 675, Den Haag.
While waiting for Noor, we had fries and croquette for snack from a nearby Chinese store, then we walked back to Fat Kee. When we met Noor at the restaurant we ordered Chinese tea, crispy chicken, black bean beef and chap choy. It was really good!
Joe and Esther also joined us for dinner later on.

Esther suggested that we look for Poffertjes for dessert. However, Noor knew exactly that the place will close early during fall. Hence we decided to go to Esther's house instead, which is close to Queen's palace. We had tea and cookie while chatting about many things, including how Eurasian people still have a fond memory of Indonesia. In Esther's house, we also found Moesoon Magazine dedicated for Eurasian people of Indonesian origin.

Esther later dropped us in Mariahoeve station, because that is where we were supposed to take the train tomorrow morning. It was a bit far of walk from Noor's house, and this means we had to take the Tram tomorrow morning. I found out that I still have some strips in my Strippenkarte left, and I will just give them to Rina when I get back to Singapore.