Day 2 - Part 2
Tor Otto, the Best Man, drove us back to Thomas place to prepare ourselves.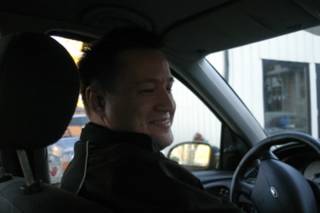 This is Thomas and Elok's house, in the sunny day of autumn.
Thomas, the busy groom, getting dressed up and helped by Tor Otto. Thomas was always on his cell phone until the wedding bell rings.
Please do enjoy
Elok and Thomas's Wedding Website
!
Thomas said he's not nervous with the wedding, but he drove quite fast on the road to the church.
The Værnes Kirke was built in 1085, and is said to be the oldest standing building in Norway. We arrived quite early.
Thomas was still always on the cell phone.
This is Thomas, Rani, Indi, and Catherine at the parking place of the church.
Apparently Thomas could not find his wedding shoes, so he borrowed emergency shoes from someone.
Mia Maria, Thomas's sister, wore traditional Norwegian outfit.
He's still on the cell phone until the very last minute!