Day 1 - Part 1
The start of our vacation was hectic. I left my leather boots at home which forced the Malay taxi driver to drive back to 9 km to our house just to get it. Luckily, the taxi driver was kind enough to let us pay $30 only (going back and forth Changi Airport). The taxi driver even had a chance to tell us the story of his life, and how his wife really loves Indonesian soap opera.
After checking in, I realized I forgot to bring the Wi-Fi card for my XDA & Telkomsel GSM card. I became very irritated, because I had prepared to bring those two items. Finally I felt better after Indi opens his Starhub international roaming.
The flight was relatively empty and we could stretch ourselves across the economy class chairs. For dinner fried chicken cutlets or fish curry with rice was served. The dessert was Tiramisu mousse.
We watched Stepford Wives and Monster Inc in the in-flight entertainment centre. Later, we got our breakfast upgraded to Business class menu since we did not want to eat pork. The original menu was bread with cold meat of unknown origin. The upgraded menu was hot omelets and tuna salad.
Our Vienna-Amsterdam Boarding Pass.
We were impressed by Schiphol Airport which was built using seemingly simple material, but in a neat fashion, Unlike Changi Airport that asserts itself with expensive and intricate building materials and often times is not in line with its tropical context. Upon arrival, we immediately checked in our luggage to Norway.
We were picked up by Tante Peggy van Aalderen, who had been waiting for us since 8 am, and took the train to Amsterdam Central Station.
The façade of Central Station is really nice but, it was being repaired, so the square in front of the Central Station was blocked by construction machines. From there, as we strolled along the Damrak we could already sensed the "liberal" atmosphere of the Netherlands. Sex museum displayed itself along main public road. There's also a bar named 'Teaser' that displayed bikini girls.
Tante Peggy introduced us to Dimas, who is a student of University of Amsterdam. He worked in a souvenir shop owned by a tax-fraud. Dimas insisted on giving us some of the stuff for free, since the items sold there are not obtained through an honest way in the first place. We then visited the palace but it was closed. We saw a homeless begging for money outside the palace.
A former KNIL soldier passed by us and cried upon hearing us speaking in Indonesian. He then chatted in Dutch with Tante Peggy, saying how disappointed he was with both Dutch and Indonesian governments, for he felt that he was kicked out by Sukarno in the 50s, and nobody in the Netherlands now recognized his struggle during KNIL period. Tante Peggy debated him by saying that it was his choice to opt for joining the Dutch instead of Independent Indonesia.
When we continued walking, we also saw a barrel organ which played classical songs.
Tante Peggy offered us to rest and enjoy traditional Dutch pancake in De Pannekoekkelder, located near Kalverstraat and Amsterdam History Museum.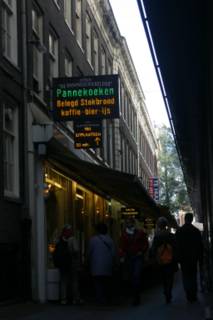 We had cinnamon apple pancake and cheese mushroom pancake while drinking hot chocolate with whipped cream. For the first time we were shocked to see European prices. It seems that the numbers are around the same or twice the price in Singapore, but in Euro currency. This means the actual price is around twice or four times Singaporean price.
In the pancake shop Tante Peggy discussed about Minang culture being a suitable culture for the modern days since it elevates the status of woman and made woman independent from men. She also told us her work scuba diving everyday for research, which is the job she chose because she loves diving. She also told us how she met her husband, who was doing research on Minang culture.