Breastmilk Cream Soup
Today I made Cream of Carrot Soup, from my own breastmilk! The result is.. not bad..!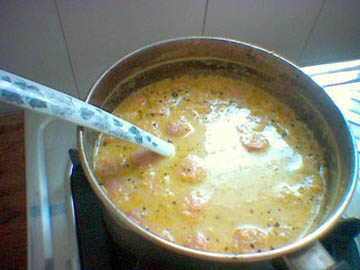 The soup was made from expressed breast milk that has been in the fridge for more than 48 hours and hence Noe can't drink it anymore - it's not sterile enough for his stomach. But I don't want to throw the milk away to trash! What a waste then! The milk is still good for cooking even though it is not as sterile.
The milk is creamy and rather sweet, so I did not need to add a dash of sugar to my cooking as I usually do.
Few weeks ago I discovered that Noe looks like a Chairman Mao, from this camera angle. Look at the 'bald head' and 'sideburns'
And Chairman Mao himself
And Noe has lost his neck too, the neck's all covered by his fatty face and chin!
Oh and for those of you who are still waiting (yeah.. right.. !) for my next nostalgic writing on Bandung 1978-1990, I plan to do it after this intermezzo posting. Be patient!